We told you about a list of some beautiful coves you can find in Ibiza. But that is not all!
What about a day (or two, or a week) laying on the beach? Ibiza has of course also plenty of beaches to choose from.
Here we will give you a list of some of them so you can plan your next trip, whatever if you prefer a quiet day at the beach or dancing till late.
Ses Salinas
Ses Salinas is a well-known beach,  especially enjoyed by the younger crowd.
At this beach, you will find several bars, serving drinks and snacks to the sound of Balearic tunes, giving the experience that famous 'extra touch.'
Watersport activities make it possible to be active while enjoying the crystal clear water.
Due to its popularity, this is not a quiet, private beach but more a sociable, buzzing place to enjoy the sun of Ibiza.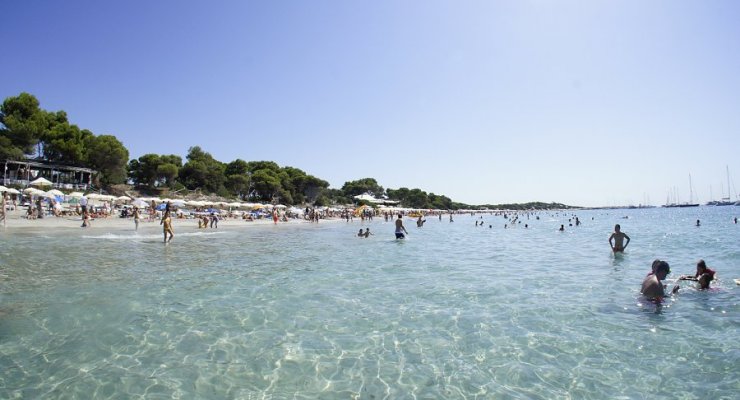 Playa d'en Bossa
This beach is the longest beach on the island. The popular beach has recently been renovated to meet the rising standards of what to expect of Ibiza. Close to clubs such as Space and Ushuaïa, the beach has something to live up to.
After a day at the beach, you can choose to depart from the port of Playa d'en bossa to go to either boat or beach parties.
Expect to visit several of beach bars, clubs and to be dancing in the sand at this place.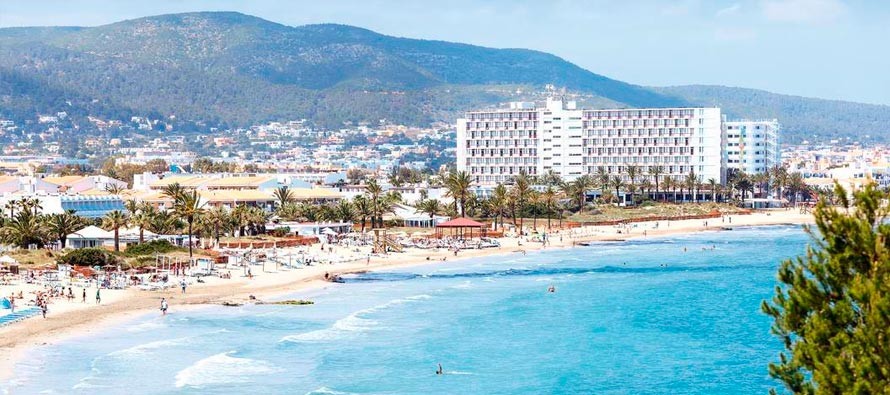 Cala Pada beach
You will find Pada beach on the east coast of Ibiza. This beach is quieter compared to the first two.
It's a small but beautiful spot. It is possible to enjoy food and drinks at beach bars and restaurants in the surrounding areas and also to do water sports activities, such as banana boats, kayaking and catamaran sailing.
This spot is assessable with a car but also ferries.
Benniras

This location is widely known for having a spectacular view of the sunset, but it's also a place for hippies to gather at Sundays, drumming while the sun gets down.
It is an experience that everyone can join to watch. They start drumming around 15 minutes before the sunset and attracts a lot of people.
If you are travelling around the island in a boat, then notice that there are possibilities for setting anchor and see the sunset from the boat. You will find Benniras in the northern part of the island.
Talamanca
Close to Ibiza town, you find Talamanca beach.
Here it's possible to eat, drink and swim while you enjoy the sun. The range of bars and restaurants are offering opening hours both in the summer and winter season, which makes it a great spot all year. Talamanca is close to Pacha which sometimes can be felt in the uplifting atmosphere at the beach.
Playa Puerto de San Miguel

As the name indicates, this small and charming beach is used as a port. Despite its small size, it can at the same time be used to be sunbathing in the clear water or enjoy one of Ibiza's specialty dishes.
This location is peaceful; both because of the nature that has shaped this beach into a cove, but also the fact that it is a bit away from the busiest cities.
If you need a break from the sun, then you can get to see a dripstone cave, Cuevas can Marcas. It can be reached within a walk from the beach.
Platja d'es Cavallet
You will find this nudist beach 20 kilometres by car from Ses Salinas beach.
From this beach, it can on a clear day be possible to have a view over Formentera. Sand dunes and nature gives the feeling of privacy. There is, just like the other beaches, rich opportunities to enjoy the selection of beach bars and restaurants.
Playa S'Estanyol
In San Antonio, you can find a couple of nice beaches. One of them is S'Estanyol.
Walk through the promenade and walk through one beach after each other. Suddenly you will arrive at Playa S'Estanyol. This nice-looking spot has different watersport activities and also offers the possibility to enjoy life on a sunbed.
From this spot, similar to other beaches in San Antonio, it is possible to take a ferry to some of the other beaches on the island. That calls for a beach-crawl!
EXTRA: Café del Mar
It's not directly a beach, but it's a classic! This place has had a big influence on the history of the music scene at Ibiza and some of the pioneers of the Ibiza sound started their career at this exact place. It is still possible to stumble into Jose Padilla playing a set at this place.
With its location close to San Antonio, which is widely known for the spectacular view of sunsets you can sit there to enjoy the tunes of the Balearic sound together with a cocktail or a delicious Mediterranean dish.
Is it not a beach you say? Well, it is located directly on the beach. You will get both music, sunset and beach.
EXTRA: Formentera
Formentera is a popular destination to reach by boat. The beautiful small island is in the south of Ibiza. Because of its small size, the island is easily accessible, making it possible to explore the best spots and beaches. Compared to Ibiza, this island is much calmer, not allowing many clubs. Be prepared to experience the most ultimate relaxation. The costs of living in Formentera are higher than in Ibiza.