Ibiza is an island with a warm climate many advantages.
We don't even want to mention the possibilities of clubbing because you already know that. Let's instead talk about what else the island can offer. That could, for example, be the 310 kilometres of coastline and more than 50 beaches and coves.
So which ones should you choose, if you don't have the luxury of having time to try all of them? We will try to help you out!
Cala Gracioneta
A bit further from San Antonio, you will find Cala Gracioneta. This beautiful place is loved by tourists and locals. Enjoy this cove for snorkelling, swimming or sunbathing.
Despite its small size, it has a lot of charm and beauty. Because of its size, it is recommended to be there early in order to catch the best spots.
When you get hungry or thirsty, you can go to the restaurant El Chiringuito, located directly at the beach. It serves food and drinks during the day, making it possible to spend the full day at this location.
You can go there by car or simply swim there from the cove next to it, Cala Gració.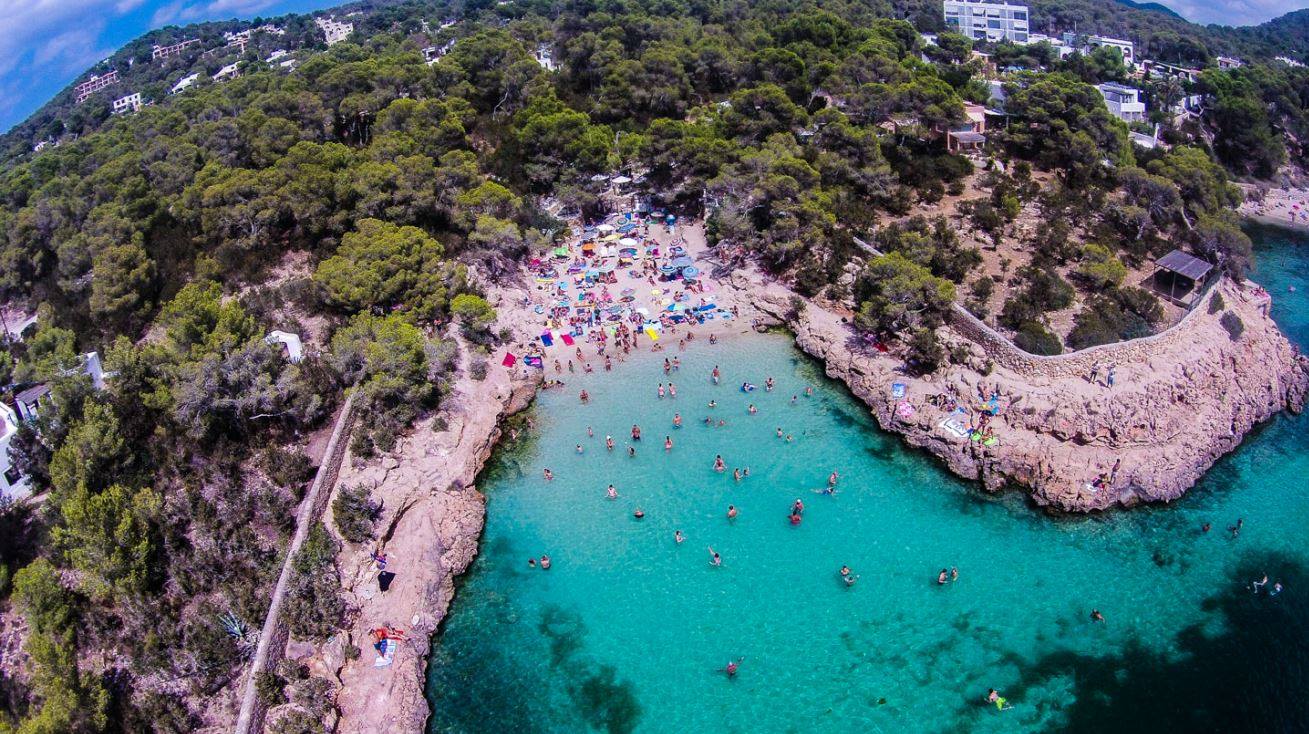 Cala Mastella
This spot is harder to access than some of the other mentioned. You can only get there by private transport and some walking. The reward will be a quiet area of a beach, good for relaxing and eating.
You also might have heard about the story about the King of Spain once way denied getting a table at a restaurant at Ibiza? This is the place it happened. El Bigotes are known for their outstanding seafood and also their strict policy of booking a table. So don't forget to book ahead to enjoy freshly caught seafood in a beautiful spot!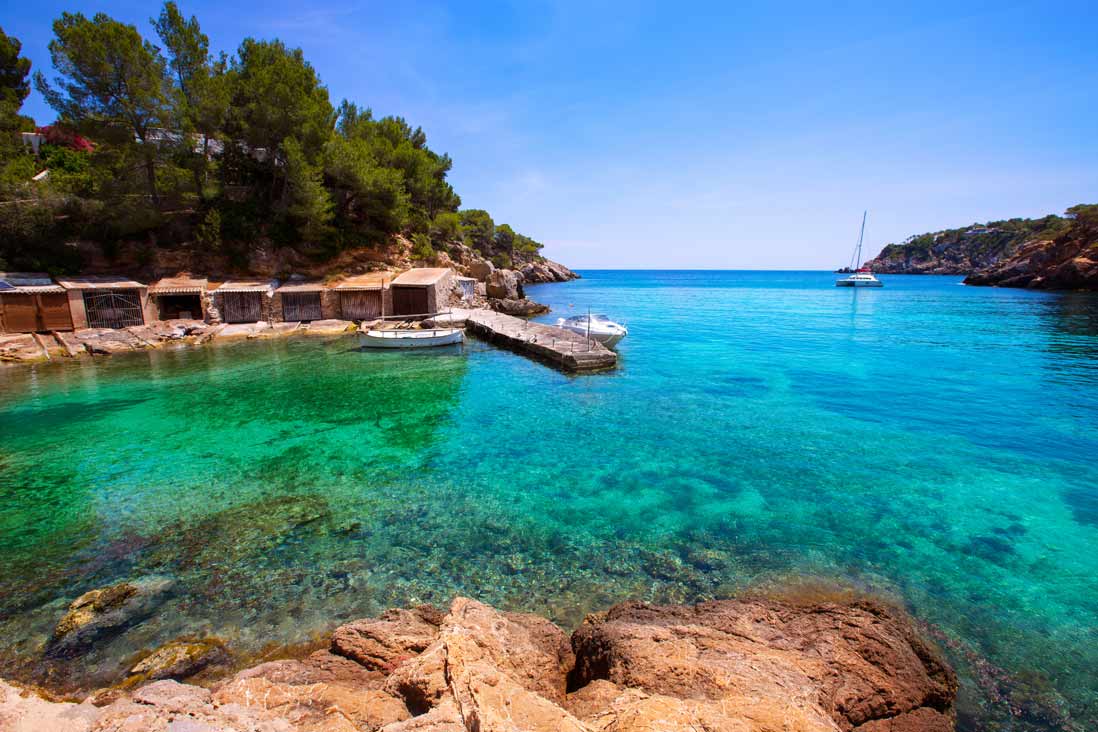 Cala Saladeta and Cala Salada
This cove is loved by both locals and tourists. It has more or less everything to expect from a beach – turquoise water, wild cliffs, fine sand and a forest to surround the area.
Cala Salada will be the beach closest to the parking spots, offering an easily accessible long sandy beach. Cala Saladeta is close but takes a bit more effort to get there. The reward is a more quiet place with beautiful surroundings.
This place is known for their freshly made drinks to a very fair price.
In the peak season, it can be preferable to enter the location with a scooter due to the limited number of parking spaces.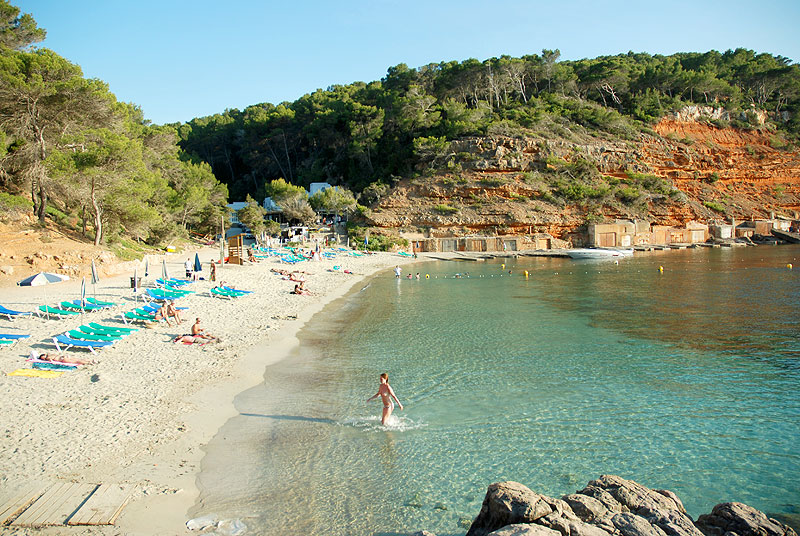 Cala Jondal
This beautiful spot begs for having taken pictures!
It is an exclusive location, popular between boat owners and celebrities.
If you go there by car, then notice that it can be necessary to rent a sunbed due to the stones on the ground that makes it a bit uncomfortable to lie directly on the ground.
At this beach, you will find Blue Marlin, which is known for their events. There are many restaurants to choose, making this location a great place to spend a day.
Sa Caleta
This place is a great spot to enjoy the beauty of nature. The feeling of exploring it can be compared to step into another world.
A large rock is surrounding the place, making it impossible for the wind to get in there. Therefore it should be avoided to be under the sun from 2-5 pm. This time could be spent wisely in the beach restaurant.
The cliffs are covered in a special clay which is considered great for your skin. Spend a day here for a special outdoor wellness experience.
Be aware that this spot is appreciated by nudists too…
Cala Olivera
This spot is barely untouched and is an absolutely peaceful location. There are no bars, so bring your own food and drinks and make a picnic.
This stunning cove is mostly visited by locals.
Atlantis
This is a very mystical place.
If you want to experience the place, then be prepared for a hard walk. Bring water and food because you will be exhausted. But the experience itself will be rewarding. Calling it a beach is maybe too much, but it is a spectacular nature spot that could be interesting for an adventurous person. You will find sculptures, stones, natural 'pools' and amazing views.